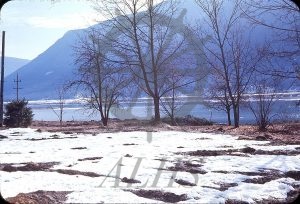 : 2022.009.3.7
: R39-62
:
: 1967-02- - 1967-04-
: 1960s, Arrow Lakes flooding (Columbia River Treaty), Columbia River, farms, Joe & Florence Adshead farm (Makinson), Sand Island, and The Narrows
: Grahams Landing and Makinson
:
1 photograph : col. slide ; 35 mm
:
Joe & Florence Adshead farm in winter, early 1967. The land would be cleared of vegetation later in the year in advance of BC Hydro's flooding of the Arrow Lakes valley. The Narrows (Columbia River) runs through image. Grahams Landing across river. Sand Island (already cleared) at left.
Purchase Print