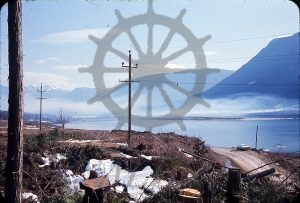 : 2022.009.3.15
: R39-71
:
: 1967-- - 1968--
: 1960s, Arrow Lakes flooding (Columbia River Treaty), Columbia River, fire, Highway 6, Sand Island, The Narrows, and utility pole
:
1 photograph : col. slide ; 35 mm
:
Sand Island as seen from Carrolls Landing following its clearing in advance of flooding to be created by the Arrow (Hugh Keenleyside) Dam, The Narrows (Columbia River), ca. 1967-1968. Original alignment of Highway 6 at bottom right. Haze in the image is from the burning of brush and debris piles associated with the clearing of the valley.
Purchase Print