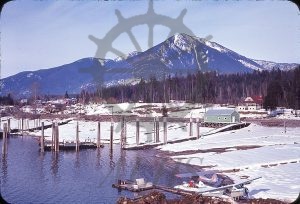 : 2022.009.2.55
: R38-62D
:
: 1965-03-
: 1960s, airplane, Arrow Lakes Airways, Celgar (Columbia Cellulose/Canadian Cellulose), Highway 6, Houdayer house (Rothwell Point), Kuskanax Mountain, Rothwell Bay, Rothwell Bay wharves (original), Rothwell Point, seaplane/floatplane, Spicer Farm, and Upper Arrow Lake
: Nakusp
:
1 photograph : col. slide ; 35 mm
:
Rothwell Bay, Upper Arrow Lake, Nakusp, March 1965. Kuskanax Mountain in background. Highway 6 runs through centre of image. Village of Nakusp at left. Spicer Farm barn at centre left. Celgar wharf below centre. Arrow Lakes Airways floatplane and dock at bottom. Rene Houdayer house at right.
Purchase Print