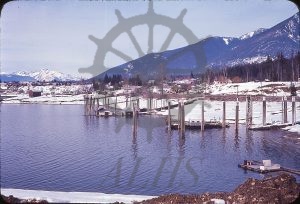 : 2022.009.2.54
: R38-61D
:
: 1965-03-
: 1960s, Celgar (Columbia Cellulose/Canadian Cellulose), Highway 6, Kuskanax Mountain, Mount Burnham, Nakusp Launch Club, Rothwell Bay, Rothwell Bay wharves (original), Rothwell Point, Spicer Farm, and Upper Arrow Lake
: Nakusp
:
1 photograph : col. slide ; 35 mm
:
Rothwell Bay, Upper Arrow Lake, Nakusp, March 1965. Kuskanax Mountain (Hufty Mountain) in background. Highway 6 at centre of image. Village of Nakusp at left. Spicer Farm to right of highway. Nakusp Launch Club wharf at centre. Celgar wharf at bottom.
Purchase Print