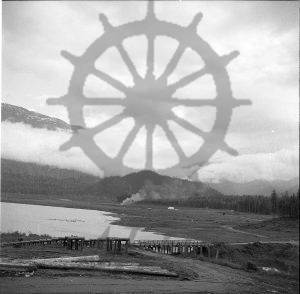 : 2022.005.2
: R22-1
:
: 1968--
: Greater Vernon Museum & Archives
: 1960s, Arrow Lakes flooding (Columbia River Treaty), Beaton Bridge, Beaton Creek, bridge, building demolition, Northeast (Beaton) Arm, and Upper Arrow Lake
: Beaton
:
1 photograph : b/w negative ; 35 mm
:
Site of the original Beaton townsite almost emptied following its demolition in advance of the raising of Upper Arrow Lake as a result of the Columbia River Treaty, ca. late 1968. The townsite would be flooded the next year. Beaton Bridge over Beaton Creek in foreground. Smoke plume from building being burned in background.
Purchase Print