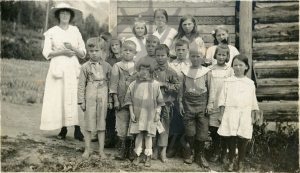 : 2020.011.2.3.5
:
:
: 1919--
: Gay Hanson and Roy Hanson
: 1910s, Box Lake School, Ehl; John, Ehl; Rita, Falkiner; Phyllis (Belsham), Gaites; Winnie (Wensley), Hamling; Chris Jr., Hamling; Ernie, Harlow; Ken, Harlow; Sam, Hohenleitner; Herman, Jansen; Charlie, Jansen; Dora, Jansen; Mimi, Pigott; Vera (Wensley), school, and Wyrill; Mrs.
: Brouse
:
1 b/w photograph (12.3 cm x 7.4 cm)
:
Class portrait, Box Lake School, Brouse, 1919. TOP(l-r): Chris Hamling, Phyllis Belsham, Winnie Wensley, Mimi Jansen, Dora Jansen. MID: Miss Wyrill (teacher), Rita Ehl, Sam Harlow, Ernie Hamling, ?. BOT: Ken Harlow, John Ehl, Herman Hohenleitner, Charlie Jansen. AT FRONT: Vera Wensley (not in school). Inscription on rear: 'Victoria, B.C./14.7.19/To Herman, with love from Mrs. Wyrill.' Image taken from photo album compiled by Herman Hohenleitner.
Purchase Print