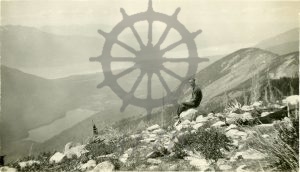 : 2020.011.2.12.4
:
:
: 1934-07-
: Gay Hanson and Roy Hanson
: 1930s, Box Lake, Box Mountain, Hamling; Ernie, Magenta Peak, rock outcrop, Saddle Mountain, Summit Peak, and Upper Arrow Lake
: Brouse, Glenbank, Nakusp, and Summit Lake
:
1 b/w photograph (11.4 cm x 6.9 cm)
:
Ernie Hamling of Brouse sitting on rock ledge atop Summit Peak/Magenta Peak, July 1934. View overlooks Box Lake (bottom left), Brouse (centre), Nakusp and Glenbank (right of centre), and Upper Arrow Lake (top), July 1934. Saddle Mountain at top left. Box Mountain at centre left. Image taken from photo album compiled by Herman Hohenleitner.
Purchase Print