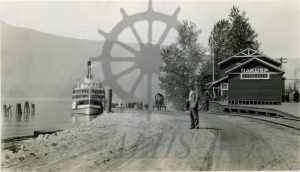 : 2020.008.1
:
:
: 1920-- - 1931--
: 1920s, Canadian Pacific Railway, Canadian Pacific Railway station (Nakusp), horse, Nakusp & Slocan Railway, SS Bonnington, sternwheelers, Upper Arrow Lake, and wagon
: Nakusp
:
1 b/w photograph (8.9 cm x 6.4 cm)
:
Man posing in front of Canadian Pacific (Nakusp & Slocan) Railway station (right) and Canadian Pacific Railway wharf (left), Upper Arrow Lake waterfront at Nakusp, ca. 1920s-1931. SS Bonnington docked at wharf. Horse and wagon at centre. Photo by William O. Royle, Lethbridge, Alberta and printed by A.E. Cross, Lethbridge, Alberta.
Purchase Print