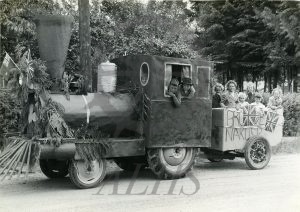 : 2020.007.4.23
:
:
: 1946-- - 1949--
: 1940s, Canada Day, Fidek; Frank, Fidek; Marg, Henke; Billy, Murphy; Ethel (Fidek), parade, Pazurik; Janet (Fidek), Roberts; Marlene (Henke), train, Urban; David, Urban; Julie, and Zeleznik; Helen (Fidek)
:
1 b/w photograph (17.6 cm x 12.8 cm)
:
Urban, Fidek, and Henke children of Brouse atop 'Brouse Nakusp' parade float shaped like train, July 1st parade, Nakusp, ca. late 1940s. L-R: Frank Fidek, David Urban, Julie Urban, Ethel Fidek, Helen Fidek, Marg Fidek, Marlene Henke, Billy Henke, Janet Fidek.
Purchase Print