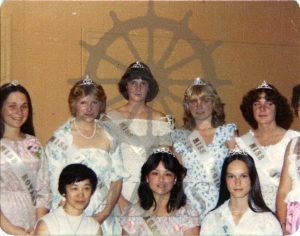 : 2020.007.4.12
:
:
: 1978-06-
: 1970s, Hanson; Joyce (Yano), Hascarl; Denise, Marlow; Teresa (Anton), Metcalfe; Karen, Queen of the Arrow Lakes, Rogers; Elaine (Homis), Uyeda; Teruko 'Terrie', White; Tracy, Williams; Laura, and Zanier; Jeannine
: Nakusp
:
1 colour photograph (10.9 cm x 8.8 cm)
:
Queen of the Arrow Lakes candidates and incumbent royalty, Nakusp, June 1978. TOP (l-r): Karen Metcalfe (Miss Rotary), Tracy White (Miss Firemen), Elaine Homis (Miss Lions), Teresa Anton (Miss Legion), Jeannine Zanier (Miss Kinsmen), Denise Hascarl (Miss Saddle Club, obscured). BOT: Terrie Uyeda (organiser), Joyce Yano (1977 queen), Laura Williams (1977 princess).
Purchase Print