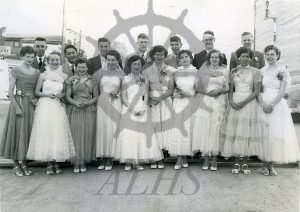 : 2020.007.3.35
:
:
: 1955-- - --
: 1950s, Arrow Lakes Theatre, Baird; Doug, bakery, Brown; June, Carswell; Lorna (Aalten), Desrochers; Frances (Urban), Falkiner; Leonard, high school graduation, Horrey; Doug, Inouye; Harry, Johnson; Rosemarie (Masson), Lake; Barbara (Waterfield), MacDonnell; Irene, MacPherson; Faye (Haines), Miller; Monica, Nakusp High School, Nakusp Natural Bakery, Pakula; Jeanette (Henke), play/theatre, school, Slocan Avenue, Surina; Joe, Urban; David, Uyeda; Michiyo 'Mickie', and Woldum; Gordon
: Nakusp
:
1 b/w photograph (17.7 cm x 12.8 cm)
:
Nakusp High School graduating class of 1955 portrait, Slocan Avenue (Nakusp Bakery at left, Arrow Lakes Theatre at right), Nakusp, June 1955. TOP (l-r): David Urban, Harry Inouye, Douglas Baird, Joe Surina, Doug Horrey, Leonard Falkiner, Gordon Woldum. BOT: Barbara Waterfield, Lorna Aalten, Rosemarie Masson, Frances Urban, Mickie Uyeda, Monica Miller, Irene MacDonnell, Faye Haines, Jeanette Henke, June Brown.
Purchase Print