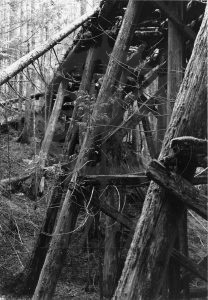 : 2019.030.2.6
:
:
: 2002--
: Fauquier Communication Centre Society
: 2000s, Arrow Lakes Lumber Co. (Arrowhead), Canyon Creek, Canyon Creek Trestle (Galena Bay), Depot Camp (Galena Bay), forest, forestry, log train, and trestle
:
1 b/w photograph (17.8 cm x 25.4 cm)
:
Overgrown remains of 1906 bridge trestle across Canyon Creek in forest, abandoned Arrow Lakes Lumber Co. log railway grade, Galena Bay, 2002. Caption: 'The 16 inch peeled cedar poles forming the trestle bents. X braces are 9 inch peeled cedar poles flattened on two sides with a broad axe and secured with 12 inch spikes. No sawn lumber was used in the trestle. Author's photo'. Photo by Bill Laux, Fauquier.
Purchase Print