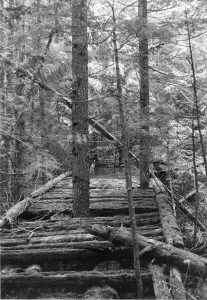 : 2019.030.2.4
:
:
: 2002--
: Fauquier Communication Centre Society
: 2000s, Arrow Lakes Lumber Co. (Arrowhead), Canyon Creek, Canyon Creek Trestle (Galena Bay), Depot Camp (Galena Bay), forest, forestry, log train, and trestle
:
1 b/w photograph (17.8 cm x 25.4 cm)
:
Overgrown remains of 1906 bridge trestle across Canyon Creek in forest, abandoned Arrow Lakes Lumber Co. log railway grade, Galena Bay, 2002. Caption: 'The 1906 trestle with ties intact. Those are 12-inch hemlocks that have grown up through it. The trestle and grade are 12 feet wide to accommodate the 13 foot wide McGiffert used to load logs. Author's photo'. Photo by Bill Laux, Fauquier.
Purchase Print