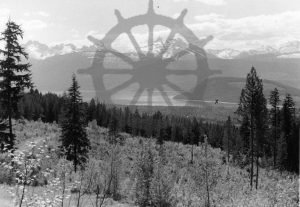 : 2019.030.2.1
:
:
: 2002--
: Fauquier Communication Centre Society
: 2000s, Arrow Lakes Lumber Co. (Arrowhead), Depot Camp (Galena Bay), forestry, Gates Peak, Gold Range, logging camp, Monashee Mountains, Mount Burnham, Mount Odin, Mount Thor, Storm Point/The Thumb, and Upper Arrow Lake
:
1 b/w photograph (25.4 cm x 17.8 cm)
:
View from above Galena Bay (at right) looking west across Upper Arrow Lake to Gold Range of Monashee Mountains, 2002. Mount Burnham at top left followed by Mount Odin, Mount Thor (top centre), and Gates Peak (top right). The Thumb (peninsula) above Galena Bay at centre right. Caption: '1. Galena Bay on Upper Arrow Lake and a general view of the area logged by the Arrow lakes[sic] Lumber Company, 1906 - 1914. The X indicates the site of Depot Camp, the log dump and the surviving McGiffert loader, now all submerged. The trestle is down among the old growth timber, centre. Author's photo'. Photo by Bill Laux, Fauquier.
Purchase Print