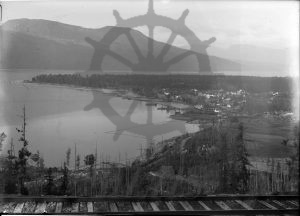 : 2019.026.5
:
:
: 1911--
: Amos Burling and J.G. Craft
: 1910s, Canadian Pacific Railway, Canadian Pacific Railway workshop, farms, Nakusp & Slocan Railway, Nakusp shipyard, Rothwell Bay, and Upper Arrow Lake
: Nakusp
:
1 b/w glass negative (17.7 cm x 12.6 cm)
:
Bird's-eye view of Nakusp townsite taken from Canadian Pacific (Nakusp & Slocan) Railway lookout, ca. 1911. Upper Arrow Lake at left with Kuskanax Point at centre left. Sam Henry farm at bottom right. Sam Henry home at bottom centre. Canadian Pacific Railway wharf, government wharf, and Canadian Pacific Railway workshop along waterfront. Photo by J.G. Craft, South Slocan (later Nelson).
Purchase Print