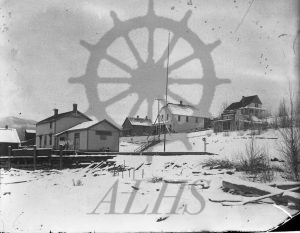 : 2019.026.15
:
:
: 1910-- - 1912--
: Amos Burling and J.G. Craft
: 1910s, Bay Street, Canadian Pacific Railway, Canadian Pacific Railway station (Nakusp), CPR station agent house (Nakusp), Ehl store (Nakusp), F.W. Jordan store, Nakusp & Slocan Railway, and store
: Nakusp
:
1 b/w glass negative (21.4 cm x 16.4 cm)
:
Buildings along 500 block, Bay Street, Nakusp, 1910-1912. L-R: Canadian Pacific (Nakusp & District) Railway station, station agent's house, F.W. Jordan & Co. store, Charlie Ehl's store (with Pay Roll tobacco advertisement), F.W. Jordan house. Photo by J.G. Craft, South Slocan (later Nelson).
Purchase Print