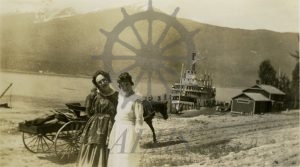 : 2019.010.1
:
:
: 1920--
: Kootenay Lake Historical Society
: 1920s, Bryne; Mary, Canadian Pacific Railway, Canadian Pacific Railway station (Nakusp), horse, Nakusp & Slocan Railway, Saddle Mountain, SS Bonnington, sternwheelers, train station, Upper Arrow Lake, wagon, and Walker; Joyce (Bryne)
: Nakusp
:
1 b/w photograph (10.9 cm x 6.3 cm on 11.9 cm x 7.1 matte)
:
Joyce Bryne (Joyce Walker) and Mary Bryne posing on waterfront of Upper Arrow Lake at Nakusp, ca. mid-1910s-mid-1920s. Saddle Mountain above SS Bonnington and Canadian Pacific (Nakusp & Slocan) Railway station in background.
Purchase Print