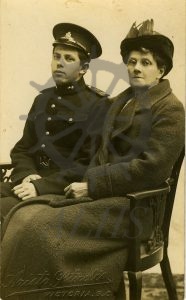 : 2018.046.3.5
:
:
: 1915-08-
: 1910s, Humphries; Jane (Stacey; Kirby), No. 1 Company; 5th Regiment, postcard, Stacey; Albert, and World War I
: Victoria
:
1 b/w photograph (2362 x 3819 pixels)
:
Postcard, studio portrait of Jane Stacey and son Albert Stacey as he prepares to depart for service in World War I, Aristo Studio, Victoria, August 1915. Postcard sent to Albert Stacey, No. 1 Company, 5th Regiment, Rod Hill, Esquimalt. Inscription on rear by Joyce Barker: 'Jane is my great aunt. Jane is daughter of Wm. Kirby Sr. & Eliza. She is sister to Wm. Kirby Jr. on Minto. Jane Kirby born on Jan 21/1862 is a sister to Sarah, Louise, William, George, Mary, Fred, Henry, Emily'.
Purchase Print