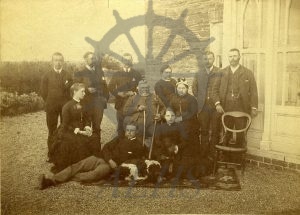 : 2018.046.2.3
:
:
: 1880-- - 1889--
: 1880s, Old; Anna, Old; Ethel, Old; Francis, Old; George, Old; Harold, Old; Jim, Old; Jo, and Old; Sarah
:
1 b/w photograph (3897 x 2792 pixels)
:
Outdoor portrait of Old family, Cornwall, ca. 1880s. Named in photograph are Francis Old and Sarah Old (parents, centre) and children Jim Old, Jo Old, Harry Old, George Old, Ethel Old, and Anna Old. There are a total of 7 sons and 3 daughters in photo. Harry and George Old were pioneer settlers of the Inonoaklin Valley in 1891. Photo by Albert P. Steer, Plymouth, Cornwall, England.
Purchase Print