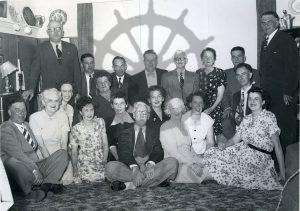 : 2018.041.3
:
:
: 1946-- - 1955--
: Hakeman; Grace (Jordan), Harris; John Elmslie 'Jack', Harris; Molly (Islip), Islip; Clara, Islip; Ralph, Jordan; Alma, Jordan; Ella (Nordstrom; Buerge), Jordan; Fritz, Jordan; Howell, Jordan; Ron, Maxfield; Beth, Maxfield; Fred, Maxwell; Agnes, Maxwell; Walter, Messenger-Hakeman; William George 'James', Morehouse; Evelyn, Morehouse; Jerry, Murphy; Winnie (Jordan), and Ward; Gladys
: Nakusp
:
1 b/w photograph (17.8 cm x 12.7 cm)
:
Group portrait of Nakusp residents, ca. late 1940s-1950s. TOP (l-r): James Hakeman, ?, Fritz Jordan, Dr. Fred Maxfield, Walter Maxwell, Agnes Maxwell, Ron Jordan, Howell Jordan. MID: Molly Harris, Ella Jordan, Jerry Morehouse. BOT: Jack Harris, Alma Jordan, Gladys Ward?, Winnie Murphy, Ralph Islip, Grace Hakeman, Clara Islip, Beth Maxfield, Evelyn Morehouse.
Purchase Print