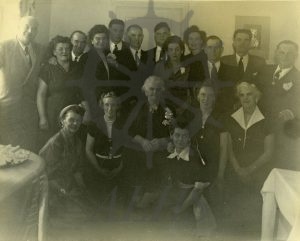 : 2018.041.103
: E47-9A
:
: 1946-- - 1959--
: Doreen Davies and Harry Murphy
: Hakeman; Grace (Jordan), Jordan-Williams; Blanche, Jordan; Alma, Jordan; Cecil 'Tad', Jordan; Ella (Nordstrom; Buerge), Jordan; Fritz, Jordan; Howell, Jordan; Lloyd, Jordan; Ron, Leary; Bessie Florence (Jordan), MacLeod; Miriam (Jordan; Cassidy), Messenger-Hakeman; William George 'James', Murphy; Harry, Murphy; Winnie (Jordan), and Williams; Bill
: Edgewood
:
1 b/w photograph (25.2 cm x 20.2 cm); 1 b/w negative (35 mm)
:
Jordan family posing with matriarch Blanche Jordan-Williams (centre) of Edgewood, ca. 1940s-1950s. TOP: (l-r): James Hakeman, Ella Jordan, Tad Jordan, Florence Leary, Harry Murphy, Bill Williams, Lloyd Jordan, Miriam Jordan, ?, Fritz Jordan, Ron Jordan, Howell Jordan. BOT. Grace Hakeman, ?, Blanche Jordan-Williams, Winnie Murphy, Alma Jordan, ? Jordan.
Purchase Print