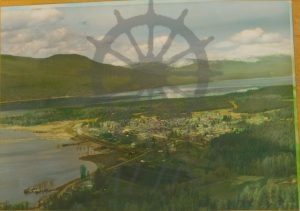 : 2018.040.50.5
:
:
: 1961--
: 1960s, Big Ledge, Celgar (Columbia Cellulose/Canadian Cellulose), farms, forestry, Highway 6, Mount Symons, Nakusp shipyard, painting, Rothwell Bay, Rothwell Bay wharves (original), Rothwell Point, Spicer Farm, and Upper Arrow Lake
: Nakusp
:
1 handcoloured print (24.2 cm x 17.9 cm on 29.5 cm x 36.5 cm framed matte)
:
Handcoloured photograph showing bird's-eye view of Nakusp, ca. 1961. Spicer Farm and Highway 6 at bottom. Upper Arrow Lake at left and above centre. Mount Symons/Big Ledge at top centre. Celgar's Rothwell Point wharf at bottom left. Image deaccessioned from Nakusp & District Museum (accession number 2007.051.01).
Purchase Print