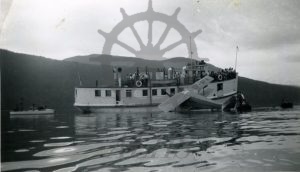 : 2018.040.29
:
:
: 1953-07-
: 1950s, accidents, ferry, Kuskanax Point, picnic, Pye; Don, Rotary Club of Nakusp, seaplane/floatplane, Sommerville; Ian, SS Beaton/MV Beaton, Upper Arrow Lake, and Upper Arrow Lake Ferry
: Nakusp
:
1 b/w photograph (15.0 cm x 9.1 cm)
:
Crowd aboard ferry MV Beaton looks out over damaged seaplane that crashed in front of Kuskanax Point, Nakusp, July 1953. Pilot Ian Sommerville and passenger Don Pye (president, Rotary Club of Nakusp) were saluting passengers on the MV Beaton as its was passing by the Rotary Club's picnic on the adjacent beach. Fishing boats in background rescued Sommerville and Pye, who were uninjured. The plane partially sank as it was towed to shore because a damaged pontoon took on water.
Purchase Print