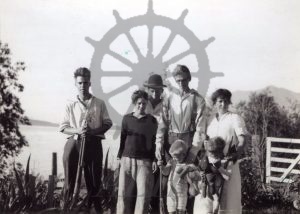 : 2018.040.26
:
:
: 1935-09-02
: Nakusp & District Museum and Val Morton
: 1930s, Morton Ranch, Morton; Curry, Morton; Frank Jr., Morton; Frank Sr., Morton; Lottie, Morton; Tom, rifles, and Upper Arrow Lake
:
1 b/w photograph (17.8 cm x 12.9 cm)
:
Morton family posing with rifles at their farm, Lot 7106, East Demars, 2 September 1935. Upper Arrow Lake in background. L-R: Frank Morton Jr., Val Morton, George Morton, Frank Morton Sr. (top), Curry Morton (bottom), Tom Morton, Lottie Morton. Inscription on rear: ' 7106 Sept. 2 1935 taken in front of home lookin[sic] North of Nakusp. Frank L. Junior holding Fathers double barrel smooth 10 bore Greener made, licence holder on his belt cost of $1.00. George M. under John Reids hat, Father Frank L. Morton holding hi power 22 long rifle pump gun, Tom H. holding teddy head side up. (1968 Pat & Mike shot & buried by [illegible]'.
Purchase Print