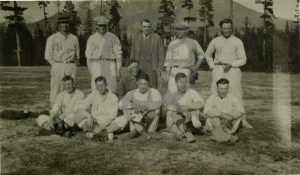 : 2018.040.11
:
:
: 1928--
: Estate of Bessie Vaughan and Nakusp & District Museum
: 1920s, baseball, Berard; Dan, Harris; John Elmslie 'Jack', Hiltz; Harvard, Lidberg; Gus, MacIntyre; Slim, Mercer (baseball player), Montgomery; Albert, Nakusp baseball team, Nakusp Recreation Park, Neubrand; Emil, Parent; Joseph Jr., Picard; Ed, and Reilly; Dell Emanuel
: Nakusp
:
1 b/w photograph (10.8 x 6.6 cm)
:
Nakusp baseball team group portrait, Nakusp Recreation Grounds, 1928. TOP:Del Reilly, Ed Picard, ? Mercer, Emil Neubrand, Albert Montgomery. BOT:Harvard Hiltz, Jack Harris, Dan Berard, Slim MacIntyre, Gus Lidberg, Joe Parent.
Purchase Print