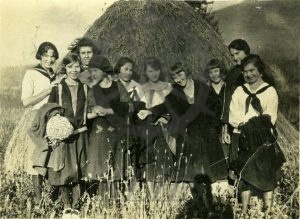 : 2018.040.10
:
:
: 1921-- - 1923--
: Estate of Bessie Vaughan and Nakusp & District Museum
: 1920s, Buhl: Leota, Campe; Beda, Campe; Elsie, Canadian Girls In Training, farms, French; Phyllis (Rawlings), Hopkins; Mabel (Parkinson), Hurry; Florence 'Flo' (Dilley), Patterson; Isabelle, Root; Doris (Cowan), Vaughan; Bessie (McWhirter), and Woodhouse; Hilda (Patterson)
: Nakusp
:
1 b/w photograph (10.8 x 8.2 cm)
:
Postcard, Canadian Girls in Training members posing in front of haystack (mostly members of first troop), Nakusp area, ca. early 1920s (no earlier than 1921). L-R:Phyllis Rawlings, Dorie Cowan, Mabel Parkinson, Beda Campe, Leota Buhl, Flo Dilley, Isabelle Patterson, Hilda Patterson, Bessie McWhirter, Elsie Campe.
Purchase Print