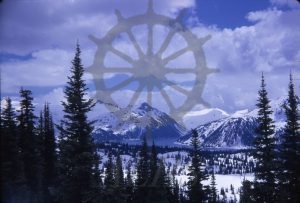 : 2018.032.53
: T20-13
:
: 1962--
: 1960s, Coast Mountains, Deception Peak, Garibaldi Lake, Garibaldi Provincial Park, Garibaldi Ranges, glacier, Glacier Pikes, Guard Mountain, Sentinel Glacier, and The Table
:
1 colour slide (35 mm)
:
Bird's-eye view of Garibaldi Lake and Sentinel Glacier looking northeast, Garibaldi Provincial Park, 1962 (image developed June 1962). Peaks, L-R: Guard Mountain, Deception Peak, Glacier Pikes, The Table. Image purchased by Ian Fraser from Milton Goddard, former West Kootenay district manager for BC Parks.
Purchase Print