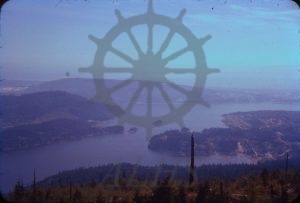 : 2018.032.4
: T18-4
:
: 1960-- - 1962--
: 1960s, Burnaby Mountains, Burrard Inlet, Coast Mountains, Deep Cove (North Vancouver), Dollarton, Indian Arm, Mount Seymour, Mount Seymour Provincial Park, and Westridge (Burnaby)
: Belcarra, Burnaby, and North Vancouver
:
1 colour slide (35 mm)
:
Belcarra (left), Indian Arm (centre), and Deep Cove (bottom right) and Dollarton (centre right) neighbourhoods of North Vancouver as seen from Mount Seymour, 1960-1962. Burnaby Mountain at top centre. Westridge, Burnaby at top right. Image purchased by Ian Fraser from Milton Goddard, former West Kootenay district manager for BC Parks.
Purchase Print