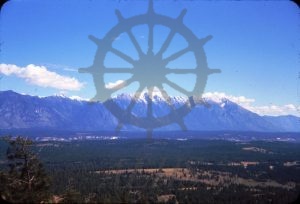 : 2018.032.129
: T24-9
:
: 1963-- - 1964--
: 1960s, Eager Lookout, forest lookout, Kootenay River/Kootenai River, Rocky Mountain Trench, Rocky Mountains, and The Steeples
: Cranbrook and Fort Steele
:
1 colour slide (35 mm)
:
View across Rocky Mountain Trench to The Steeples (centre) and Bull Mountain (right), Rocky Mountains, as seen from Eager Lookout midway between Cranbrook and Fort Steele, ca. 1963-1964. Kootenay River in distance below mountains. Image purchased by Ian Fraser from Milton Goddard, former West Kootenay district manager for BC Parks.
Purchase Print