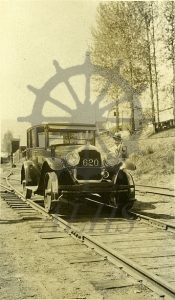 : 2018.031.1
:
:
: 1929--
: Revelstoke Museum & Archives
: 1920s, automobiles, Canadian Pacific Railway, F.W. Jordan store, Nakusp & Slocan Railway, speeder car, and Vipond; Ed
: Nakusp
:
1 b/w photograph (8.5 cm x 12.9 cm)
:
Ed Vipond posing with Canadian Pacific Railway M-620 speeder car, Nakusp. Notes: 'Nakusp, March 31, 1929. Packard Bell Motor Car, was C. A. Catterall's (General Superintendant from Vancouver), inspection car. Standing beside the car is Mr. E. R. Vipond, at that time assistent[sic] agent at Nakusp, B. C. In back ground, F. W. Jordan's old store then used as office and warehouse for White Pine Lumber Co. (C. S. Leary).' Note proper spelling of 'Caterall'.
Purchase Print