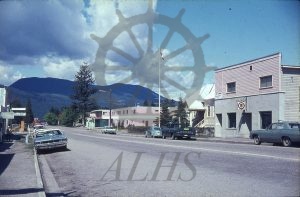 : 2018.030.9
: T16-9
:
: 1970-- - 1971--
: 1970s, 409 Broadway Street W, 412 Broadway Street W, 416 Broadway Street W, 515 Broadway Street W, automobiles, BC Liquor Store, Bon Marché, Broadway Street, building construction, DuMont Motel, flag, Folkman; Len, hotel, Kootenay Savings Credit Union, Nakusp Courthouse, Nakusp Credit Union, and store
: Nakusp
:
1 colour slide (35 mm)
:
View looking west along 400 block, Broadway Street West, Nakusp, 1970-1971. DuMont Motel at centre. Nakusp Courthouse/Nakusp Government Office just right of centre. Old Opera House (BC Liquor Store/Len Folkman accounting office) at right. Nakusp Credit Union and Bon Marché at left. Construction of new Kootenay Savings Credit Union building beginning in background at left.
Purchase Print