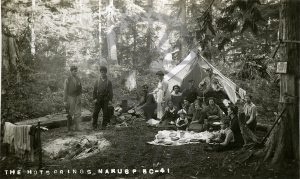 : 2018.029.2
: E40-6
:
: 1914-- - 1915--
: Betty Williams and David Spedding
: 1910s, Bailey; Ethel (Gregory), Bowes; Annie, Bowes; Cliff, Bowes; Harriet (Arnett), Bowes; Marvin, camping, Davison; Rose (Gregory), Gardner; Maud, Gregory; Charles, Gregory; Charlie, Gregory; Jane, Gregory; Wes, hot springs, Kirk; Dorothy, Moul; John, Nakusp Hot Springs, postcard, and Taylor; Hugh
: Nakusp
:
1 b/w postcard (14.0 cm x 8.7 cm), 1 b/w negative (35 mm)
:
Postcard, Glenbank group camping at Nakusp Hot Springs, ca. 1914-1915. BACK (l-r): Marvin Bowes, Hugh Taylor, Charles Gregory, Jane Gregory, Ethel Gregory, John Moul, Charlie Gregory. FRONT(l-r): Rose Gregory, Maud Gardner, Dorothy Kirk, Annie Bowes, ?, Wes Gregory, Harriet Bowes, Cliff Bowes. Photo by Ernest Bill. Postcard via Mary Spedding.
Purchase Print