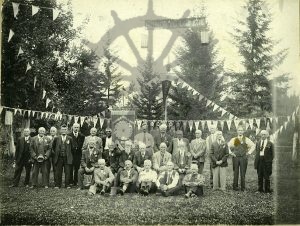 : 2018.029.14
:
:
: 1930-08-13
: 1930s, Allshouse; Tom, Bowes; Tom, Cadden; Jack, Carlson; Fred, Collier; Art, Edwards; Lewis J., Fitzsimmons; Capt. James, Fry; Martin Markham, Gardner; William, Gibeau; Peter, Graham; James 'Jim', Green; Robert 'Bob', Hamer; Peter, Henke; Julius, Herridge; William 'Willie', Hopp; Bob, Keys; George, Kirk; Fletcher, McCormack; John Harper, Moseley; William Isaac 'Bill', Nelson; W.J., Old Man's Day, Parent; Joseph Sr., Redfern; Herbert, Scott; Walter, Sharp; A.E., Wagstaff; James, and Walker; Samuel
: Nakusp
:
1 b/w photograph (20.5 cm x 15.5 cm on 30.3 cm x 25.4 cm matte)
:
Group portrait of senior citizens underneath Honour to Old Age banner, Old Man's Day, Nakusp, 13 August 1930. TOP (l-r): Peter Hamer, William Gardner [Graham's Landing], W.J. Nelson [Kaslo], John H. McCormack [Burton], Captain James Fitzsimmons, Lewis Edwards, George Keys, Tom Allshouse [Summit Lake], Samuel Walker [Burton], Tom Bowes, James Wagstaff, Fletcher Kirk, Willie Herridge, A.E. Sharp, Art Collier. MID: Robert Green, Julius Henke, Martin Fry [Bonners Ferry, Idaho], Fred Carlson, Bill Moseley, Walter Scott. BOT: Peter Gibeau, Joseph Parent Sr., Jack Cadden [Kaslo], William Morgan, Jim Graham. Photo via Mary Spedding.
Purchase Print