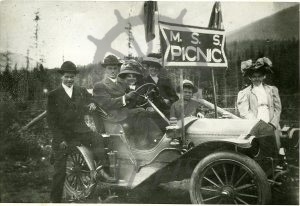 : 2018.029.10
: E12-10
:
: 1908-- - 1915--
: automobiles, Bowes; Annie, Bowes; Cliff, Bowes; Harriet (Arnett), Bowes; Marvin, church, Glenbank Methodist Church, Peters; John, Peters; Lula (Bowes), and picnic
: Glenbank
:
1 b/w photograph (17.9 cm x 12.8 cm), 1 b/w negative (35 mm)
:
Peters/Bowes family posing with John Peters' Metz, the first automobile in Nakusp, Glenbank, ca. late 1900s-early 1910s. L-R: Marvin Bowes, John Peters, Lula Peters (nee Lula Bowes), Harriet Bowes, Cliff Bowes, Annie Bowes. Car is decorated for Glenbank Methodist Sunday School picnic.
Purchase Print