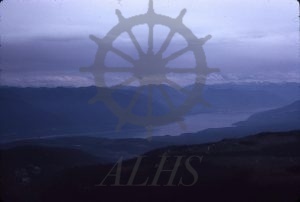 : 2018.027.16.171
: P39-11
:
: 1973-09- - 1973-10-
: 1970s, Box Mountain, Highway 23, Kuskanax Creek, Mount Symons, Selkirk Mountains, Telegraph Bay, and Upper Arrow Lake
: Mount Symons, Nakusp, and Shoreholme
:
1 colour slide (35 mm)
:
Upper Arrow Lake and Selkirk Mountains as seen from meadow on Mount Symons west of Pingston, Monashee Mountains, ca. September-October 1973. Village of Nakusp and Kuskanax Creek delta along just left of centre. Box Mountain to right of Nakusp. Highway 23 runs along lakeshore to left (north) of Nakusp with Telegraph Bay at centre.
Purchase Print