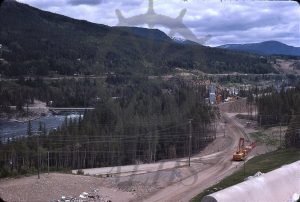 : 2018.027.10.9
: P26-9
:
: 1975-05-25
: 1970s, BC Hydro, Blewett Road, bridge, crane, dam, dam construction, Highway 3A, Highway 6, Kootenay Canal, and Kootenay River/Kootenai River
: Bonnington and South Slocan
:
1 colour slide (35 mm)
:
View from southwest of Kootenay River between South Slocan and Bonnington as seen during construction of Kootenay Canal and associated hydroelectric development by BC Hydro, 25 May 1975. Blewett Road crossing river at left. West Kootenay Power's Lower Bonnington Dam partly obscured at centre right. Highway 3A/6 runs left-to-right through photo above river.
Purchase Print