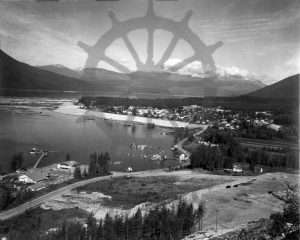 : 2018.007.5
:
:
: 1968--
: 1960s, Arrow Lakes flooding (Columbia River Treaty), Celgar, Edwards house (Leary/Jordan/Massey), farms, Government wharf (Nakusp), Highway 6, Houdayer house (Rothwell Point), Nakusp waterfront levelling, Rothwell Bay, Rothwell Bay wharves (original), Rothwell Point, Spicer Farm, and Upper Arrow Lake
: Nakusp
:
1 b/w photograph (25.3 cm x 20.1 cm)
:
Bird's-eye view of Nakusp on Upper Arrow Lake, 1968. Waterfront at Nakusp has been levelled in advance of the flooding of the Arrow Lakes the following year by BC Hydro. Spicer Farm at right. Rene Houdayer and Ron Jordan houses at centre. Highway 6 runs through centre. New alignment of Highway 6 under construction at bottom. Celgar yard, offices, and wharf at left.
Purchase Print