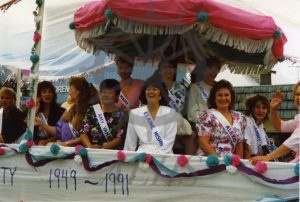 : 2018.006.5
: Q34-11
:
: 1992-07-01
: 1990s, 1992 Nakusp centennial, Broadway Street, Buerge; Janice, Canada Day, Dalzell; Lorraine (Wensley), Hanson; Joyce (Yano), Hascarl; Tammy (Cound), Kiyono; Alexis 'Lexi' (Dunn), McArthur; Mary (Dieterman), parade, Pazurik; Janet (Fidek), Queen of the Arrow Lakes, Starchuk; Elaine (Nishimura), Svensson; Amy (Yanagisawa), Van Immerzeel; Kathryn, and Yoshida; Debbie (Schmidt)
: Nakusp
:
1 colour photograph (15.1 cm x 10.2 cm), 1 colour negative (35 mm)
:
Float carrying previous Queen of the Arrow Lakes/Miss Nakusp winners, July 1st parade, 400 block, Broadway Street, Nakusp, 1 July 1992. TOP(l-r): Mary McArthur (Mary Dieterman, 1961), Lorraine Dalzell (Lorraine Wensley, 1951), Kathryn Van Immerzeel (1990). BOT: Janice Buerge (1988), Joyce Hanson (Joyce Yano, 1977), Debbie Yoshida (Debbie Schmidt, 1987), Amy Svensson (Amy Yanagisawa, 1963), Elaine Starchuk (Elaine Nishimura, 1967), Alexis Kiyono (Alexis Dunn, 1969), Tammy Hascarl (Tammy Cound, 1986), Janet Pazurik (Janet Fidek, 1959). Bon Marché (416 Broadway Street West) and Arrow Lakes Hospital Auxiliary Thrift Shop (418 Broadway Street West) in background.
Purchase Print