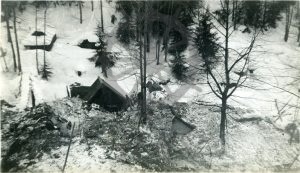 : 2018.004.5
: G23-29A
:
: 1937-02-24
: E. Annette Huyter, Eleanor Beaton, and James Albert Terry
: 1930s, avalanche, Stewart slide (1937), and Stewart; Evelyn
: Sandon
:
1 b/w photograph (14.6 cm x 8.9 cm), 1 b/w negative (35 mm)
:
Ruins of Stewart home in Sandon's upper gulch following the home's destruction by an avalanche on 24 February 1937. The Stewarts' granddaughter, Evelyn Stewart, age 6, perished in the avalanche and was found against a chair where the dining room had been. Notes on rear: 'A view down the Stewart slide, at remains of the Stewart home. Body of little Evelyn removed from 16' shaft sunk near the two trees in centre of view. <-Tunnel runs full length of photo->'.
Purchase Print