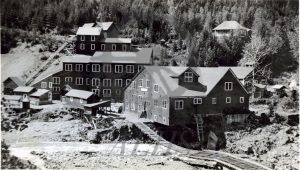 : 2018.004.36
:
:
: 1933-06-
: E. Annette Huyter and James Albert Terry
: 1930s, Canadian Pacific Railway, Carpenter Creek, Carpenter Creek washout (1933), flood, mining, Nakusp & Slocan Railway, and Silversmith Mine
: Sandon
:
1 b/w photograph (14.0 cm x 8.3 cm)
:
Silversmith Mine mill complex, Sandon, 1933, with washed out Nakusp & Slocan (Canadian Pacific) Railway siding line and flood debris at bottom. The washout was caused by a slide of debris from the Silversmith Mine that emptied into Sandon Creek in 1933. The bank underneath the filter house, undermined at lower right, was refilled and the railway bridge rebuilt.
Purchase Print