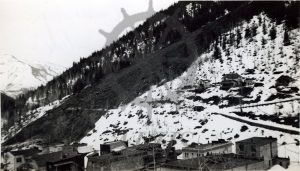 : 2018.004.30
:
:
: 1938-03-
: E. Annette Huyter and James Albert Terry
: 1930s, avalanche, avalanche path, Kootenay slide (1938), Tattrie house (Sandon), and tree
: Sandon
:
1 b/w photograph (14,7 cm x 8.7 cm)
:
Hillside at Sandon covered in debris and uprooted trees following Kootenay Slide, March 1938. Downtown Sandon at bottom. Tattrie family house (built 1900 by Crawfords) is large house on hillside second from right. This avalanche buried that area occupied by the Sandon skil hill. The base of this slide is the location of the modern [2019] road bridge leading into Sandon. .
Purchase Print