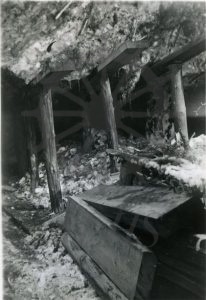 : 2018.004.3
:
:
: 1937-02-24
: E. Annette Huyter and James Albert Terry
: 1930s, avalanche, Stewart slide (1937), and Stewart; Evelyn
: Sandon
:
1 b/w photograph (6.2 cm x 9.0 cm)
:
View from inside of a tunnel dug through an avalanche into the Stewart home to recover the body of Evelyn Stewart of Sandon, age 6. The girl perished inside her grandparents' home in Sandon's upper gulch when the house was destroyed by an avalanche while she was visiting on 24 February 1937. Notes on rear: ' Timbered tunnel where work was done in tragic search. Tree trunk shows location of Stewart front door. Snow is 10 ft deep above'.
Purchase Print