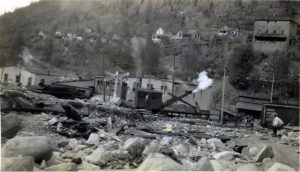 : 2018.004.28
:
:
: 1933-06-
: E. Annette Huyter and James Albert Terry
: 1930s, Canadian Pacific Railway, Carpenter Creek, Carpenter Creek washout (1933), excavator, flood, Sandon School (1900), school, and train
: Sandon
:
1 b/w photograph (13.9 cm x 8.3 cm)
:
Debris adjacent to Canadian Pacific Railway crossing following washout at Sandon, June 1933. The washout was caused by a slide of debris from the Silversmith Mine that emptied into Carpenter Creek via Sandon Creek, plugging the flume containing Carpenter Creek through downtown Sandon underneath Main Street and leaving debris strewn throughout the town. Canadian Pacific Railway steam shovel cleaning up debris at centre. Building at upper right on Sunnyside is the 1900 Sandon school.
Purchase Print