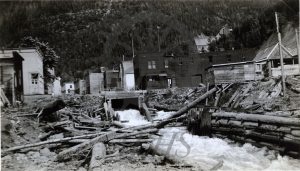 : 2018.004.17
:
:
: 1933-06-
: E. Annette Huyter and James Albert Terry
: 1930s, Carpenter Creek, Carpenter Creek flume (Sandon), Carpenter Creek washout (1933), flood, Kootenay Hotel (Sandon), Main Street (Sandon), McMillan's Sash and Dour Factory, and Ruth-Hope Mine
: Sandon
:
1 b/w photograph (13.9 cm x 8.3 cm)
:
Debris along Main Street following washout at Sandon, June 1933. The washout was caused by a slide of debris from the Silversmith Mine that emptied into Carpenter Creek via Sandon Creek, plugging the flume containing Carpenter Creek through downtown Sandon underneath Main Street (west end of flume is at centre of image) and leaving debris strewn throughout the town. Kootenay Hotel to left of flume. McMillan's Sash and Dour Factory is large dark building to right of flume; Masonic Lodge was on 2nd floor of this building. Ruth Mill in right background.
Purchase Print