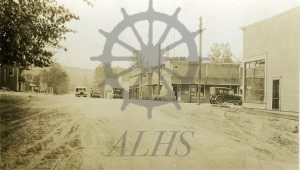 : 2017.034.75
:
:
: 1923--
: 1920s, 306 Broadway Street W, 312 Broadway Street W, 314 Broadway Street W, Broadway Street, cenotaph, Edwards Block, Nakusp cenotaph, Nakusp Trading Co., Ralph Islip/Broadway Store, store, and Wagstaff & Vestrup Hardware
: Nakusp
:
2 b/w photographs (14.9 cm x 8.2 cm)
:
Broadway Street looking eastward past cenotaph at intersection with Slocan Avenue, 1923. Buildings (L-R): Nakusp Co-Op, Somers, original Ralph Islip grocery store (opened 1923, burned with neighbouring building 1926), G.F. Jordan store, Wagstaff & Vestrup Hardware, empty lot, Lewis Edwards office (Edwards Block), cenotaph. Nakusp Trading Company.
Purchase Print