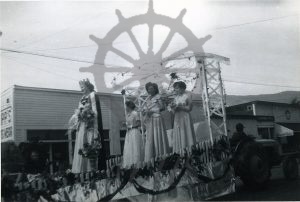 : 2017.034.41
:
:
: 1951-07-01
: 1950s, 312 Broadway Street W, B.C. Telephone Co., Broadway Street, Canada Day, Dalzell; Lorraine (Wensley), Desrochers; Doreen (Parent), Edwards Block, Fellows; Hazel (Herridge; Ward), Jones; Louise (Surina), Jupp's Men's Wear, parade, Queen of the Arrow Lakes, Ralph Islip/Broadway Store, and store
: Nakusp
:
1 b/w photograph (12.8 cm x 9.1 cm)
:
Queen of the Arrow Lakes float, July 1st parade, 300 block, Broadway Street, Nakusp, 1 July 1951. L-R: Hazel Ward (incumbent queen), Doreen Parent, Louise Surina, Lorraine Wensley. Jupp's Men's Wear in background at left. BC Telephone Co. office and Ralph Islip grocery store/pharmacy at back right.
Purchase Print