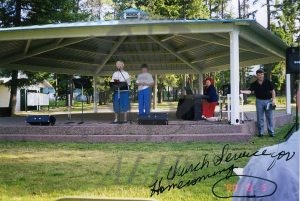 : 2017.025.5.40
:
:
: 2000-08-05
: Angus; Rev. Catherine, church, gazebo, Marshall; Marilyn, Massey; Marilyn, Nakusp Homecoming (2000), Nakusp Recreation Park, Robertson Memorial United Church, and St. Mark's Anglican Church (1967-2018)
: Nakusp
:
1 colour photograph (15.1 cm, x 10.2 cm)
:
Outdoor church service for Nakusp Homecoming weekend, Nakusp Recreation Park gazebo, 5 August 2000. L-R: Rev. Catherine Angus (United Church), Marilyn Marshall, Marilyn Massey. Image from scrapbook St. Andrew's United Church Book III assembled by members of St. Andrew's United Church, Burton.
Purchase Print