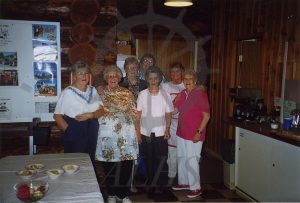 : 2017.025.4.14
:
:
: 2001-10-13
: Gale Detta and St. Andrew's United Church
: 2000s, Anton; Bea (Steenhoff), Brown; June, church, Dinning; Dawna, Head; Pat, Moorhouse; Lenora, Munger; Jan, Nakusp Senior Citizens Association Hall, Roberts; Olive 'Ollie', and Robertson Memorial United Church
: Nakusp
:
1 colour photograph (15.0 cm x 10.1 cm)
:
Group portrait, volunteer cooks, United Church Presbytery banquet, Nakusp Seniors Citizens' Hall, 300 8th Avenue NW, 13 October 2001. L-R: Dawna Dinning, Lenora Moorhouse, Pat Head, June Brown, Ollie Roberts, Bea Anton, Jan Munger. Image via untitled scrapbook covering years 2001-2014 assembled by St. Andrew's United Church, Burton.
Purchase Print