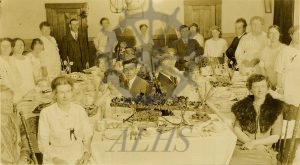 : 2017.021.21
:
:
: 1923-- - 1924--
: 1920s, Anderson; Alice (Humphris), Harvey; Nellie, Herridge; Emma (Masters), Herridge; Norman Archibald 'Archie', Knights of Pythias, Knights of Pythias Hall, Lamerton; Annie, Leveque; Evelina (Duquette), Lodge; Amy (Beckett), Masters; Harold, Masters; Nettie, Mathers; Alice (Leveque; Akerman), Morrison; James 'Jim', Parent; Della (Leveque), Parent; Joseph Jr., Pythian Sisters, Schiedel; Hilda (Grundstrom), Schiedel; Isaiah 'Ike', Shelling; Enid (Wensley), Stein; Mrs., and Vipond; Lena
: Nakusp
:
1 b/w photograph (13.9 cm x 8.9 cm on 14.6 cm x 9.4 cm matte)
:
Group gathered around dining tables, Knights of Pythias Hall, Nakusp, for visit by Pythian Sisters' Grand Chief, 1923-1924. Standing (L-R): Annie Lamerton, Evelina Leveque, Alice Leveque, Lodge, Potts, Aalten, Jim Morrison, Bush, Olson, Ike Schiedel, Potts, Hilda Schiedel, Harold Masters, Nettie Masters, Enid Wensley, ?. Seated (L-R): Lena Vipond, Nellie Harvey, Della Parent, Joe Parent, Alice Humphris (above Joe Parent), Harvey, ?, Archie Herridge, Emma Herridge, ?, Mrs. Stein (Grand Chief). Photo via Nellie Bradbury.
Purchase Print