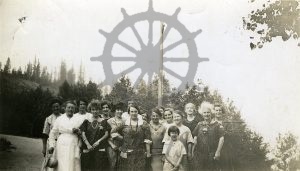 : 2017.020.98
:
:
: 1920-- - 1929--
: 1920s, Campbell; Liza, Leckett; Jane (Campbell), Reid; Lizzie (Campbell), Ritchie; Viva, Scott; Jessie, and Wilson; Mrs. George
:
1 b/w photograph (14.7 cm x 8.9 cm)
:
Large group portrait, Arrow Park women, ca. 1920s. Inscription on rear makes reference to Liza Campbell (far left?) and daughters Jane Campbell (later Jane Leckett of Needles) and Lizzie Campbell (later Lizzie Reid of Trail). Campbell daughters are at front right between Viva Ritchie and Mrs. George Wilson. Jessie Scott second from left.
Purchase Print